Product Description
Roller Chain Shaft Coupling Flexible Coupling(GB/T6069–2002)
Roller chain coupling introduction:
The chain coupling is composed a duplex roller chain and 2 sprockets.The function of connection and datachment is done by the joint of chain.It has the characteristics of simplicity,high efficiency,easy-on and easy-off and nice out-looking.It also have aluminum cover to prevent dust and protect the lubricant in order to extend the life of chain coupling.
 
Roller Chain coupling application:
Chain couplings are offered in the industrys largest variety of stock bore/keyway combinations. These couplings require no lubrication and provide highly reliable service for light, medium, and heavy duty electrical motor and internal combustion power transmission applications.  Applications include power transmission to industrial equipment such as pumps, gear boxes, compressors, blowers, mixers, and conveyors.
The chain coupling has the advantages of simple structure (consisting of 4 parts), convenient installation and disassembly, 2 shafts which are joined without moving during disassembly, compact size, light weight, compensation ability, low installation accuracy, reliable operation, long life and low cost.
·GL Roller Chain Coupling Basic Parameter And Main Dimension(GB/T6069-2002)
·Product Show
♦Other Products List
Transmission Machinery 
Parts Name
Model
Universal Coupling
WS,WSD,WSP
Cardan Shaft
SWC,SWP,SWZ
Tooth Coupling
CL,CLZ,GCLD,GIICL,
GICL,NGCL,GGCL,GCLK
Disc Coupling
JMI,JMIJ,JMII,JMIIJ
High Flexible Coupling
LM
Chain Coupling
GL
Jaw Coupling
LT
Grid Coupling
JS
♦Our Company
HangZhou CHINAMFG Machinery Manufacturing Co., Ltd. is a high-tech enterprise specializing in the design and manufacture of various types of coupling. There are 86 employees in our company, including 2 senior engineers and no fewer than 20 mechanical design and manufacture, heat treatment, welding, and other professionals.
Advanced and reasonable process, complete detection means. Our company actively introduces foreign advanced technology and equipment, on the basis of the condition, we make full use of the advantage and do more research and innovation. Strict to high quality and operate strictly in accordance with the ISO9000 quality certification system standard mode.
Our company supplies different kinds of products. High quality and reasonable price. We stick to the principle of "quality first, service first, continuous improvement and innovation to meet the customers" for the management and "zero defect, zero complaints" as the quality objective. 
♦Our Services
1.Design Services
Our design team has experience in cardan shaft relating to product design and development. If you have any needs for your new product or wish to make further improvements, we are here to offer our support.
2.Product Services
raw materials → Cutting → Forging →Rough machining →Shot blasting →Heat treatment →Testing →Fashioning →Cleaning→ Assembly→Packing→Shipping
3.Samples Procedure
We could develop the sample according to your requirement and amend the sample constantly to meet your need.
4.Research & Development
We usually research the new needs of the market and develop the new model when there is new cars in the market.
5.Quality Control
Every step should be special test by Professional Staff according to the standard of ISO9001 and TS16949.
♦FAQ
Q 1: Are you trading company or manufacturer?
A: We are a professional manufacturer specializing in manufacturing
various series of couplings.
Q 2:Can you do OEM?
Yes, we can. We can do OEM & ODM for all the customers with customized artworks of PDF or AI format.
Q 3:How long is your delivery time?
Generally it is 20-30 days if the goods are not in stock. It is according to quantity.
Q 4: Do you provide samples ? Is it free or extra ?
Yes, we could offer the sample but not for free.Actually we have a very good price principle, when you make the bulk order then cost of sample will be deducted.
Q 5: How long is your warranty?
A: Our Warranty is 12 month under normal circumstance.
Q 6: What is the MOQ?
A:Usually our MOQ is 1pcs.
Q 7: Do you have inspection procedures for coupling ?
A:100% self-inspection before packing.
Q 8: Can I have a visit to your factory before the order?
A: Sure,welcome to visit our factory.
Q 9: What's your payment?
A:1) T/T. 
♦Contact Us
Web: huadingcoupling
Add: No.11 HangZhou Road,Chengnan park,HangZhou City,ZheJiang Province,China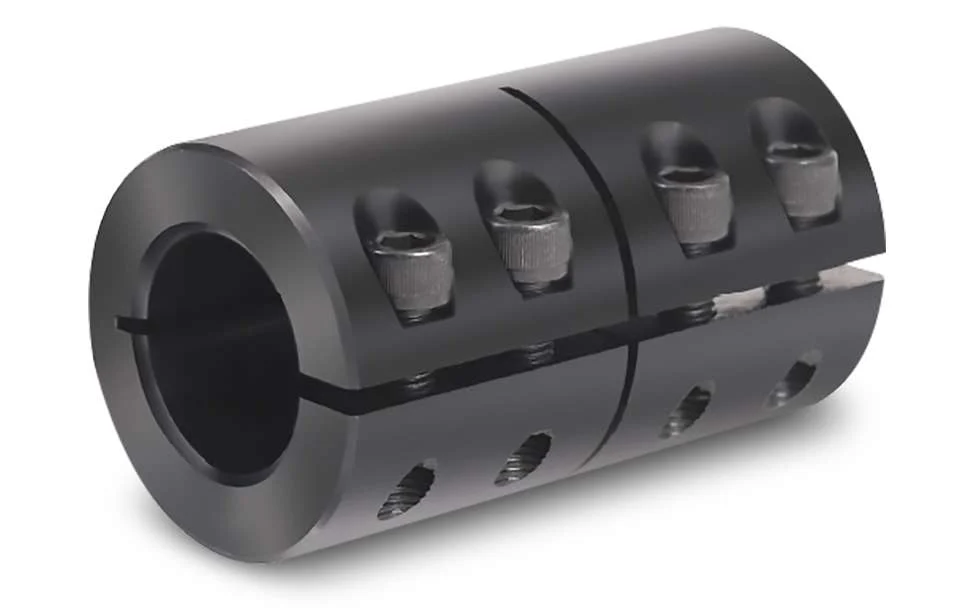 Can Rigid Couplings Handle Misalignment Between Shafts?
Rigid couplings are not designed to handle misalignment between shafts. Unlike flexible couplings that can accommodate slight misalignment through their bending or elastic properties, rigid couplings are intended to provide a fixed and immovable connection between two shafts. As a result, any misalignment between the shafts can lead to increased stress and uneven loading on connected components.
It is essential to ensure precise alignment when using rigid couplings to avoid premature wear and failure of the system. The shafts must be perfectly aligned in both the axial and angular directions before installing the rigid coupling. Proper alignment helps distribute the load evenly and reduces stress concentration on specific areas, such as bearings and keyways.
If a system requires some level of misalignment compensation due to factors like thermal expansion or slight shaft deflection, a flexible coupling should be considered instead. Flexible couplings can tolerate small degrees of angular and axial misalignment while still transmitting torque efficiently and protecting the connected equipment from excessive stress and wear.
In summary, rigid couplings are best suited for applications where precise shaft alignment can be achieved and maintained, while flexible couplings are more appropriate for systems with potential misalignment or other dynamic factors that require some degree of flexibility.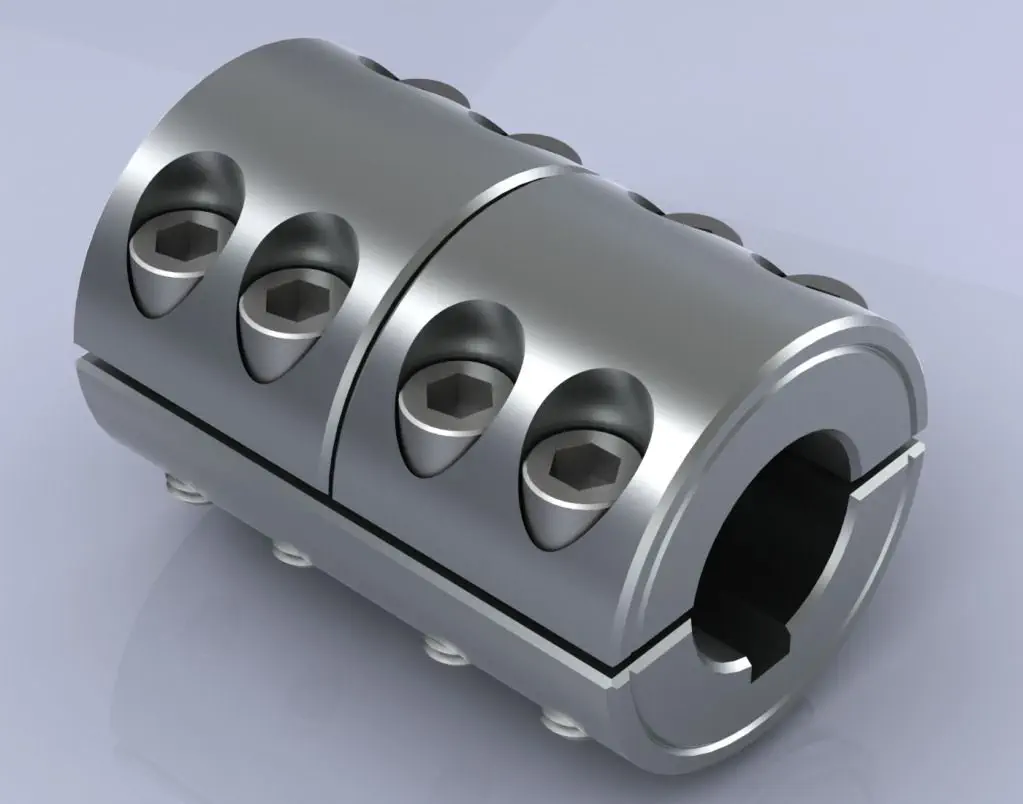 How Does a Rigid Coupling Handle Angular, Parallel, and Axial Misalignment?
Rigid couplings are designed to provide a fixed and rigid connection between two shafts. As such, they do not have any built-in flexibility to accommodate misalignment. Therefore, when using a rigid coupling, it is essential to ensure proper shaft alignment to avoid excessive forces and premature wear on connected equipment.
Angular Misalignment: Angular misalignment occurs when the axes of the two shafts are not collinear and form an angle with each other. Rigid couplings cannot compensate for angular misalignment, and any angular misalignment should be minimized during installation. Precision alignment techniques, such as laser alignment tools, are often used to achieve accurate angular alignment.
Parallel Misalignment: Parallel misalignment, also known as offset misalignment, happens when the axes of the two shafts are parallel but have a lateral displacement from each other. Rigid couplings cannot accommodate parallel misalignment. Therefore, precise alignment is crucial to prevent binding and excessive forces on the shafts and bearings.
Axial Misalignment: Axial misalignment occurs when the two shafts have an axial (longitudinal) displacement from each other. Rigid couplings cannot address axial misalignment. To prevent thrust loads and additional stresses on bearings, it is essential to align the shafts axially during installation.
In summary, rigid couplings are unforgiving to misalignment and require precise alignment during installation. Any misalignment in a rigid coupling can lead to increased wear, premature failure of components, and reduced overall system efficiency. Therefore, it is crucial to use appropriate alignment techniques and tools to ensure optimal performance and longevity of the connected equipment.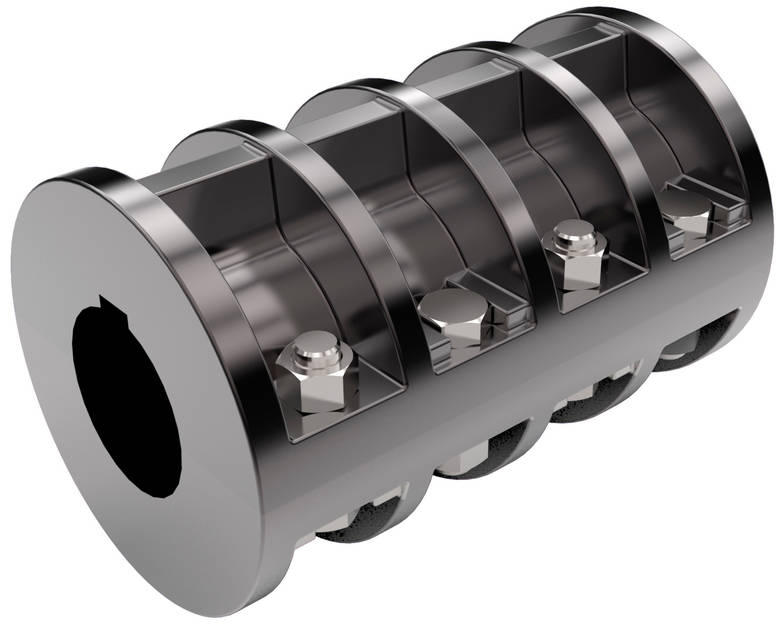 Materials Used in Manufacturing Rigid Couplings:
Rigid couplings are designed to provide a strong and durable connection between two shafts, and they are commonly made from a variety of materials to suit different applications. The choice of material depends on factors such as the application's environment, load capacity, and cost considerations. Some common materials used in manufacturing rigid couplings include:
1. Steel: Steel is one of the most widely used materials for rigid couplings. It offers excellent strength, durability, and resistance to wear. Steel couplings are suitable for a wide range of applications, including industrial machinery, automotive systems, and power transmission.
2. Stainless Steel: Stainless steel couplings are used in applications where corrosion resistance is crucial. They are well-suited for environments with high humidity, moisture, or exposure to chemicals. Stainless steel couplings are commonly used in food processing, pharmaceuticals, marine, and outdoor applications.
3. Aluminum: Aluminum couplings are known for their lightweight and corrosion-resistant properties. They are often used in applications where weight reduction is essential, such as aerospace and automotive industries.
4. Brass: Brass couplings offer good corrosion resistance and are commonly used in plumbing and water-related applications.
5. Cast Iron: Cast iron couplings provide high strength and durability, making them suitable for heavy-duty industrial applications and machinery.
6. Bronze: Bronze couplings are known for their excellent wear resistance and are often used in applications involving heavy loads and low speeds.
7. Plastics: Some rigid couplings are made from various plastics, such as nylon or Delrin. Plastic couplings are lightweight, non-conductive, and suitable for applications where electrical insulation is required.
It's essential to consider the specific requirements of the application, including factors like load capacity, operating environment, and cost, when choosing the appropriate material for a rigid coupling. The right material selection ensures that the coupling can withstand the forces and conditions it will encounter, resulting in a reliable and long-lasting connection between the shafts.



editor by CX 2023-11-16