Product Description
Product Description
      Steel flexible joint is also called clamp, open expansion joint, steel flexible pipe joint. Steel flexible joint is a kind of pipe connection, reliable performance, easy to install products. At low pressure, by the elastic deformation of the sealing ring, to achieve the purpose of sealing; When the pressure increases, the medium acts on the sealing ring to play the role of self-sealing, and there is a gap between the pipe ends to compensate for the displacement and deflection of the pipe caused by thermal expansion and cold contraction.
The working temperature of the clamp joint is generally -30ºC-+130ºC. The medium property is weak acid, weak alkali and lubricating oil range can be applied. If beyond the above range can also provide our company with the nature of the medium parameters or optional parameters or optional specified rubber ring material. In addition to the connection function, the joint can also provide compensation, withstand axial force, provide Angle, reduce vibration wave, adapt to the change of foundation.
The advantages of clamp joint:
1 Clamp joint has good continuity, will not produce distortion, easy to achieve the ideal laying state.
2 Clamp pipe joint in a free state, do not bear the weight of the pipe, not subjected to external shear, especially DN200 pipe diameter, more must consider the weight of the pipe.
3. It is easy to keep the coaxial position when installing the clamp joint to ensure the uneven distribution of the radial clearance between the inner diameter of the pipe clamp and the outer diameter of the pipe. The rubber ring will be deformed under high pressure due to the large local clearance, which will affect the sealing effect and even destroy the rubber ring.
4. It is suitable for the application in the subsidence zone, which can reduce the Angle between the pipe segments caused by the subsidence of the support pier.
5 is conducive to pipeline maintenance. Turn the pipe, save labor and effort when changing the pipe.
 
Product Parameters
PN1.6/2.5/4.0/6.4MPa     KRHD
 
DN(mm)
Dw(mm)
Allowable  Angle
Φ
Installation  length
L   (mm)
Maximal length
(mm)
Fitting  bolt 
d×L    (mm)
80
89
17.90
100
110
M12*60
100
108
15.06
100
110
M14*60
125
133
13.05
105
115
M14*60
150
159
12.09
110
120
M14*60
175
194
10.51
110
120
M16*60
200
219
9.33
116
126
M16*75
225
245
8.36
122
132
M16*80
250
273
7.51
127
137
M18*90
300
325
6.32
130
140
M18*100
350
377
5.45
135
145
M18*100
400
426
4.80
140
150
M18*110
450
480
4.28
145
155
M18*110
500
530
3.88
150
160
M18*120
600
630
3.27
155
165
M18*120
700
720
2.86
160
170
M20*120
800
820
2.51
165
175
M20*130
900
920
2.24
170
180
M20*130
1000
1571
2.02
175
185
M20*130
1200
1220
1.69
180
190
M22*140
1400
1420
1.45
185
195
M22*140
1600
1620
1.27
190
200
M22*140
1800
1820
1.13
195
205
M22*150
2000
2571
1.01
200
210
M24*150
2200
2571
1.01
205
215
M24*150
2400
2420
1.01
210
220
M24*150
2600
2620
1.01
215
225
M24*160
2800
2830
1.01
220
230
M27*160
3000
3571
1.01
225
230
M27*160
3200
3220
1.01
230
240
M27*180
 
Datas above are only for reference,if you want to know more details, please click here to contact us.
Installation Instructions
1. Prepare groove pipe sections, fittings and accessories that meet the requirements.
2. Check whether the rubber sealing ring is damaged and put it on the end of a steel pipe.
3. There should be a certain gap between the end and both ends of the steel pipe close to the end and both ends of the pipe which has been         covered with rubber sealing ring. The clearance shall meet the standard requirements.
4.  Put the rubber seal ring on the end of another steel pipe, make the rubber seal ring in the middle of the interface, and apply lubricant on the same side.
5. Check the axis of the pipe.
6. Install upper and lower clamps on the outer side of rubber seal-ing ring at the interface position, and clip the collar convex edge into the groove.
7. Press the upper and lower clamp ears with hand force, tighten the collar of the clamp with a wooden hammer, and tighten the upper and lower clamps tightly.
8. At the clamp screw hole position, put on the studs and tighten the nuts evenly to prevent the rubber sealing ring from wrin-kling.
9. check  and  comfirm  that  the  collar  convex  edge  is  clamped  into  the  groove.
 
products application
Company Profile
        HangZhou Ruixuan pipeline equipment factory was founded in 1996.It  is an excellent  enterprise  specializing  in manufacturing  and selling pipe fittings.It's located  in Xicun village ,HangZhou  city,ZheJiang province ,the concentrated  area  of pipeline equipment industry  in China.The  company factory  is located  in Xicun town pipeline equipment industrial park.It covered an area of20000  square  meters.
        At present, the company has the production capacity of pipeline equipment with a maximum diameter of 4000mm, and its main products are: Steel expansion joint, flexible waterproof sleeve, large diameter flange, double flange force transfer expansion joint, large deflection loose sleeve compensation joint, spherical compensation joint, sleeve compensator, bellows compensator, non-metallic compensator, rubber expansion joint, DC medium no thrust sleeve compensator, flexible expansion pipe and other pipeline equipment. The annual production capacity is 30 million sets.
        The flexible telescopic pipe equipment is mainly used in the pipeline crossing different geological structures under different conditions and the application of pipe installation drop, reduce or avoid the impact of geological settlement and crustal activity on the pipeline, so that the construction unit can save more than 50% of the cost when purchasing the equipment. The rubber expansion joint series products of the company, the maximum production diameter of 3600mm, have been applied in millions of units of thermal power projects in China for many times, and have been praised by the users.
         The company passed ISO9001:2008 quality management system certification in 2009 and ISO14000:2004 environmental management system certification in 2009. The company has a strict quality control system, standard production process, standard factory inspection hand section, to ensure that every product meets the national standards and customer requirements.
       Business philosophy: responsible production of products, return the trust of customers; To build a community with a sense of belonging and appreciate employees' contributions; Make a contribution to the society of enterprises, give back to the good times. HangZhou Ruixuan pipeline equipment factory is willing to work with friends from all walks of life hand in hand, mutual support, create a better future!
Certifications
exhibition
FAQ
Q:Can you make the product as per client's requirement?
A:Yes, we can make it with your exact requirement.
Q:What are your payment terms?
A:T/T (30% as deposit, the rest 70% will be paid before delivery), L/C at sight.
Q:Where is your nearest loading port?
A:ZheJiang , HangZhou or ZheJiang , China.
Q:How can you guarantee the quality or any warranty?
A:If any quality problems during use, all the products can be returned or according to consumer's requests.
Q:Do you accept small quantity order?
A:Of course we do.
Q:And what is your shipment and delivery time?
A:By sea or air. Normally 7 to 14 Days for delivery, according to your order quantity.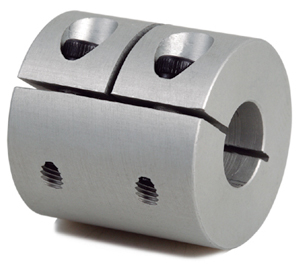 Can Rigid Couplings Accommodate High Torque and High-Speed Applications?
Yes, rigid couplings are well-suited for high torque and high-speed applications. Their design and construction allow them to efficiently transmit large amounts of torque and handle high rotational speeds without compromising performance or introducing backlash.
Rigid couplings are typically made from robust materials, such as steel or aluminum, which provide high strength and stiffness. This allows them to withstand substantial torque loads without deformation or failure. Additionally, rigid couplings do not have flexible elements, such as elastomers or springs, which can be a limiting factor in high-torque applications.
The absence of flexible elements also means that rigid couplings have minimal backlash. Backlash is the clearance between mating teeth in a coupling and can cause position inaccuracies, especially in high-precision systems. Since rigid couplings have a solid, one-piece design, they offer precise and immediate torque transmission, making them suitable for applications requiring high accuracy and repeatability.
Furthermore, the solid construction of rigid couplings allows them to handle high rotational speeds. They do not exhibit the bending or torsional flexibility seen in some other coupling types, which can be limiting factors in high-speed applications. As a result, rigid couplings are commonly used in various high-speed machinery, such as power transmission systems, motors, pumps, and industrial equipment.
However, it is essential to ensure proper alignment and installation when using rigid couplings in high-torque and high-speed applications. Any misalignment between the shafts can lead to increased stresses and premature failure. Regular maintenance, including shaft alignment checks, can help ensure optimal performance and longevity in such demanding applications.
In summary, rigid couplings are an excellent choice for high torque and high-speed applications due to their robust design, minimal backlash, and ability to provide precise torque transmission. When correctly installed and maintained, rigid couplings can reliably handle the demands of various industrial and mechanical systems.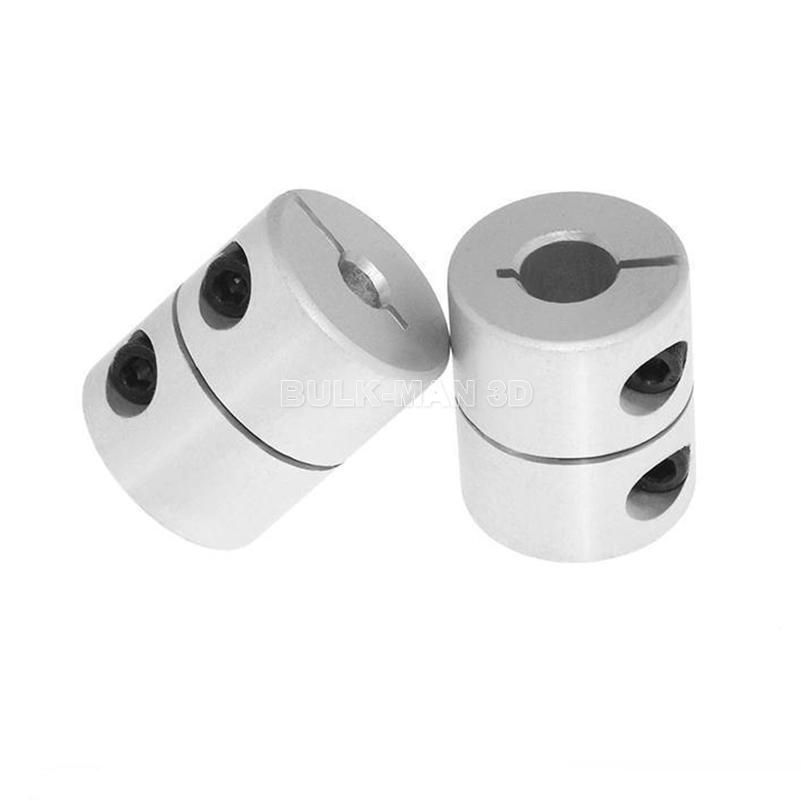 Factors to Consider When Choosing a Rigid Coupling for a Specific System
Choosing the right rigid coupling for a specific system is crucial to ensure proper functionality and reliable performance. Several factors should be considered when making this decision:
1. Shaft Size and Compatibility: The most fundamental factor is ensuring that the rigid coupling is compatible with the shaft sizes of the connected components. The coupling should have the appropriate bore size and keyway dimensions to fit securely onto the shafts.
2. Operating Torque: Consider the torque requirements of the application. The rigid coupling should have a torque rating that exceeds the maximum torque expected during operation to prevent failures and ensure safety.
3. Speed: Determine the rotational speed (RPM) of the connected shafts. Rigid couplings have maximum RPM limits, and the selected coupling should be capable of handling the system's operating speed.
4. Misalignment Tolerance: Assess the potential misalignment between the shafts. Rigid couplings provide no flexibility, so the system must have minimal misalignment to prevent excessive forces on the components.
5. Temperature and Environment: Consider the operating temperature range and the environment where the coupling will be used. Ensure the chosen material can withstand the temperature and any corrosive or harsh conditions present.
6. Space Limitations: Evaluate the available space for the coupling. Rigid couplings have a compact design, but ensure that there is enough clearance for installation and maintenance.
7. Backlash and Torsional Stiffness: In some precision systems, backlash must be minimized to maintain accurate positioning. Additionally, the torsional stiffness of the coupling can impact system response and stability.
8. Keyway or Keyless Design: Decide between a coupling with a keyway or a keyless design based on the specific application requirements and ease of installation.
9. Material Selection: Consider the material properties of the rigid coupling. Common materials include steel, stainless steel, and aluminum, each with its own advantages and limitations.
10. Maintenance: Determine the maintenance requirements of the coupling. Some couplings may need periodic lubrication or inspections, while others may be maintenance-free.
11. Cost: While cost should not be the sole consideration, it is essential to evaluate the cost-effectiveness of the coupling, taking into account its performance and longevity.
By carefully considering these factors, you can select the most suitable rigid coupling for your specific system, ensuring optimal performance, and longevity of your mechanical setup.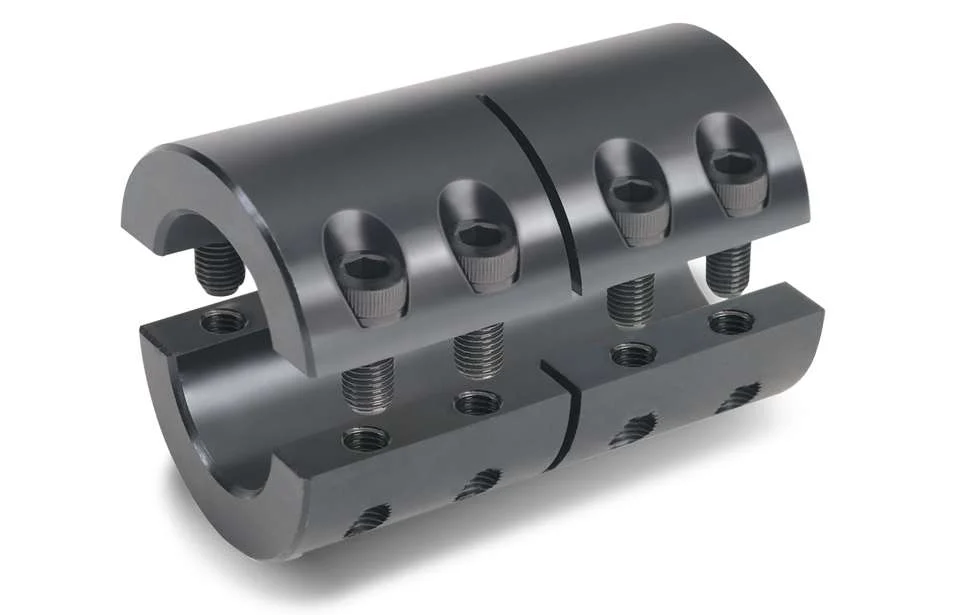 Advantages of Using Rigid Couplings in Mechanical Systems:
Rigid couplings offer several advantages when used in mechanical systems. These advantages make them a preferred choice in certain applications where precise alignment and high torque transmission are essential. Here are the key advantages of using rigid couplings:
1. High Torque Transmission: Rigid couplings are designed to handle high torque and power transmission without any loss due to flexibility. They provide a direct and solid connection between shafts, allowing for efficient transfer of rotational motion.
2. Precise Alignment: Rigid couplings maintain precise alignment between connected shafts. When installed correctly, they ensure that the two shafts are perfectly aligned, which is crucial for applications where accurate positioning and synchronization are required.
3. Synchronous Rotation: The rigid connection provided by these couplings enables synchronous rotation of the connected shafts. This is particularly important in applications where components must move in precise coordination with each other.
4. Simple Design: Rigid couplings have a straightforward design with minimal moving parts. This simplicity makes them easy to install and maintain, reducing the chances of mechanical failure.
5. Cost-Effective: Compared to some other coupling types, rigid couplings are generally more cost-effective. Their simple design and robust construction contribute to their affordability.
6. High Strength and Durability: Rigid couplings are typically made from strong and durable materials such as steel, stainless steel, or aluminum. These materials can withstand heavy loads and provide long-lasting performance in demanding applications.
Rigid couplings are commonly used in various industries and applications, including high-precision machinery, robotics, automation systems, precision motion control, and machine tools. They are especially beneficial in scenarios where misalignment needs to be minimized or avoided altogether.
It's important to note that while rigid couplings offer these advantages, they are not suitable for applications where shaft misalignment or shock absorption is required. In such cases, flexible couplings or other specialized coupling types may be more appropriate.



editor by CX 2023-11-16